The Changing Landscape of the E-commerce Industry.
The Changing Landscape of the E-commerce Industry.
Ecommerce industry has seen continuous growth since it came to the market. These last couple of years have been particularly fruitful for the industry as the popularity of ecommerce is at an all-time high. With the industry which keeps growing rapidly also need to make changes and adapt at a similar pace to stay at this level. Ecommerce industries have started using a mix of different technologies for their operations to work as smoothly as possible. These technological changes have to keep changing, adapting and evolving to suit consumers. Some latest uses of new technologies in the Ecommerce industry are detailed below.
Google Analytics in E-commerce
In the era of the internet, insights about customers have become a big part of businesses especially ecommerce. Social media sites like – Facebook, Twitter, and Instagram provide insights for businesses about the audience, reach, statistics, website clicks, impressions etc. The inception of Google Analytics has been widely used by all types of websites and businesses. When it comes to ecommerce, Google Analytics has become a must-have. Google Analytics, when incorporated accurately, will prove to be a valuable asset for the ecommerce businesses. Data is an important aspect for ecommerce and that's where Google Analytics will come in handy. The functions of Google Analytics will help a business analyze patterns of sales.
With Google Analytics, an ecommerce business gets insights on the audience, purchases, quantities, categories, geographical areas etc. From a data collection point of view, these insights are a necessity. The sections under Google Analytics of reports and statistics will help a business create awareness of the brand and develop it further. It will help a business track down its problem areas when it comes to conversion of a lead into sales. Google Analytics can be set according to the specifications or requirements of a particular business. With the insights of Google Analytics, an ecommerce business can understand a lot about the customer's purchasing patterns and in return improve service and customer satisfaction.
Google Analytics also provides a detailed analysis of conversion rates, average order value, unique purchases, the average of quantities and prices, popular products or product categories and many more data which will prove to be beneficial for ecommerce businesses. Google Analytics will also help with the understanding of the buyer's process, customer interests and disinterests, better management of SEO, maximizing content with on-site search, audience view, statistics, customer engagement etc. Since ecommerce businesses thrive on data they collect, Google Analytics will be an immense help.
Content Marketing in E-commerce
Content marketing has become an essential part of establishing and maintaining a brand image. In a passive way, content attracts a lot of customer leads which eventually convert into sales. All buyers consume advertising in different forms especially in our current society that having a good content marketing strategy will work in the business's favor. Ecommerce industry has made use of content marketing almost from the beginning and it is doing wonders for their 'brands'.
Content marketing plays an important role in the creation of a strong brand name and also create awareness about the brand. The focus is on creating unique content which tells a story, talks about experience and prefers quality over quantity. With the right strategy of content marketing, a business can develop an organic relationship with marketing partners, personalize content which increases the relatability factor for customers.
Content marketing started with blogs which remains relevant but now content marketing is not limited to just blogs. Creation of content for visualization, showing support to different causes and building relationships, working with influencers, interactive content, email marketing in an effective way etc is being adapted by brands including ecommerce businesses. In ecommerce, content marketing can be a way of engaging the customers without explicitly trying to sell products.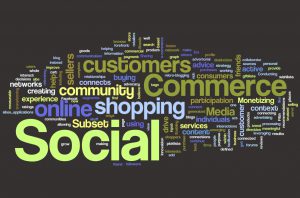 Also read – Trends Shaping the Ecommerce Industry
Native Shopping and Native Commerce
The trend of native commerce is pretty new in the ecommerce industry but has shown lot of potential in a short time. The combination of content and commerce is important when it comes to native shopping or even native commerce. It is often noticed that on the internet that native content is actually favored over non-native content. For example – On Facebook, a person is more likely to view posts or videos with native content probably because it is relatable to them. In a similar fashion, native shopping plays an important role in ecommerce these days.
When catering to a multicultural audience in ecommerce, it has become necessary to nativize the content, customize the products and contents favoring different geographical areas etc. Native shopping can increase the sales or conversion of leads to sales. With the huge amount of users on visual platforms like Instagram and Pinterest makes it easier for ecommerce industries to invest time and efforts in nativization of products and content. The idea of customizing the relevancy of a product based on the geographical area has shown good results. Ecommerce websites using native commerce has made their content and products relevant and contextual for different societies.
The easiest example of native shopping is Pinterest's 'Shop the Look' feature on its application and the website. When you find a picture of an outfit you like, you can click on any part of the ensemble you want to purchase and find out the details about that on the application itself. This saves the efforts on the part of the consumer to actually leave an application and then visit your site. These days purchasing is offered from platforms like Instagram and Pinterest which has a million users worldwide is proving beneficial or ecommerce.
Augmented Reality (AR) and Virtual Reality (VR)
Augmented Reality (AR) is a technology which merges the virtual objects with the real world and in the process allows interaction between them in a seamless environment. Virtual Reality (VR) is a technology which is a combination of technology and design to create immersive environments and make the users actually believe that they are in those stimulated environments.
There is an interest among the buyers to get an authentic feel and look of a particular product before making an actual purchase. This has led to new technological advancements in the field of ecommerce to provide the customers with that authentic feel they are looking for while shopping. AR and VR have gained quite a lot of traction in the ecommerce industry, in an effort to engage their potential customers.
The best example of the use of such technologies is the Swedish furniture giant Ikea. In their application, if you are looking for a TV unit, through the application of AR you can actually see the TV unit in your space and get a feel of its look to see if it is to your liking. This can help the buyer to see how the chosen furniture piece looks in the intended space, whether it fits properly or not, matches with the rest of the room etc. Such use of technology is very useful to engage the customers and give them a complete shopping experience.
The significance of the Internet of Things (IoT) in e-commerce
The landscape of shopping has been changed forever since the start of ecommerce. Now, the ecommerce industry has found ways to keep engaging customers and maintain loyalty with its consumers. The introduction of IoT in the environment of ecommerce has proved fruitful and will continue to do so. Unlike retail stores, ecommerce doesn't benefit from face to face interaction and that is where devices come into play.
Internet of Things is creating a lot of buzz. It is applied to Smart Television sets, Alexa/ OK Google and for some even in other home appliances. The benefit of IoT in ecommerce to a large scale can be seen in their operations. With IoT, supply chain management has improved vastly. Tracking devices, for example, in supply chain management there is a very practical use of IoT and can be done fairly easily with RIFD chips and sensors. It has also changed the inventory management especially in warehouses; now inventory is a real-time possibility and also reduces the margin of human error.
Internet of Things (IoT) has also helped in advertising and marketing when it comes to ecommerce. With IoT, ecommerce businesses can personalize advertising for customers by targeting a particular group of consumers. It also recognizes shopping patterns, search history, and online browsing, popular products on social media platforms etc which gives the industries a huge amount of data to work with. Moreover, it might even prove of use to anticipate problems with customers which automatically leads to smoother running of operations.
The landscape of the ecommerce industry is constantly changing. An industry which has enjoyed immense success and popularity around the world is evolving and adapting new trends and technologies to make their own operations smoother and also improve the customer's shopping experiences.
2,196 total views, 3 views today