Healthcare and Technology
Healthcare Technology
Technology has become a massive part of our lives significantly over the last few years or so. The technology sector has constantly adapted, evolved and customized their technology. We use technology on a daily basis for various personal and professional reasons. New technologies are always in development to be useful for different aspects of our lives; healthcare is one of those aspects. The healthcare technology industry has seen the development of technologies specific to healthcare over time. Now, technology is becoming a norm when it comes to healthcare. In a way, healthcare and technology have merged which has impacted the lives of people all around the world.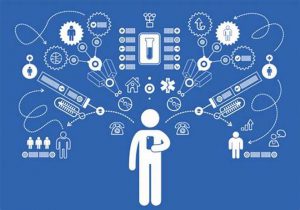 Digitizing healthcare records
The future of this sector is changing constantly right now with introductions of new and innovative technologies suitable particularly for healthcare. As new technologies are introduced time and time again, there are many technologies which have proved very beneficial for the healthcare sector. The continuous development and improvement of technology for healthcare purpose has had a positive impact on peoples' lives. Technology in healthcare has improved administrative as well as medical practices which honestly have more benefits than cons.
For administrative purposes, the digitizing of the records has been a big positive. All of the health records are being stored electronically leaving behind paper-based records. Digitizing of records have made the patient records easily accessible. In one file, all the information about the patient, the medical history and present issues everything can be accessed at ease by medical professionals. It reduces the factor of human error and it is easy maintenance and accessibility. This has lead to an easier and efficient system of workflow in healthcare.
Use of Technology in healthcare
Technology is being used in different and innovative ways in the healthcare sector. In society, smartphone technology and wireless connectivity are used widely all over the globe. Healthcare and technology together have merged to create a wide network to connect with people using the smartphone tech and the internet. A lot of healthcare applications are developed and available in the market for people.
For example, there are applications which help with weight loss by allowing you to monitor your calorie intake and exercise routine. It enables one to set goals, make entries of every meal, calculate the number of calories burned etc. There are applications for medical references, personal health records, fitness, mental health, women's health, and even diagnostics.
With the use of healthcare technology, the medical professionals are automatically made aware of potential or present problems like allergies, intolerance, medicinal allergy etc. This can be used at any medical facility which leads to enhanced care of the patients. A treating physician with this information at hand can provide the best possible treatment for the patient. Some researchers and experts firmly believe that the cost of public healthcare has lowered due to the use of technology in healthcare.
Healthcare and technology pretty much go hand in hand nowadays. There are plenty of benefits of merging healthcare and technology and no doubt there are some risks. The future of healthcare technology is shaping up right in front of our eyes. The mass and widespread benefits of healthcare technology have been promising so far. It remains to been seen what new technologies come up in relation to the healthcare sector and improve the lives of people.
2,784 total views, 3 views today